This section includes several resources and downloadable documents from ICT-Go-Girls! project. Except where otherwise noted, content on this site is licensed under a Creative Commons Attribution Share alike license.
Handbook for Schools. "Promoting Entrepreneurship through ICT for Girls"
It is a practical 40 pages manual for schools, teachers, educational administrations, which summarizes our findings and recommendations to improve the number of women working and leading in ICT field, by starting early in secondary school. It is available in 5 languages and PDF format. It has a Creative Commons Attribution – Share Alike license, so feel free to download it, use it our adapt it to make it work in your context. We will love to hear your feedback and experience, in any case!

Handbook's CD: the content is distributed in several folders:
Analysis: this folder contains the report "Girls, ICT and entrepreneurship. Learning from existing initiatives" (PDF, English)
Dissemination: this folder contains posters, the newsletter, flyers, etc used to promote the project.
Methodology: the methodology used during the pilots, it shows the two stages and all the activities done during the pilots in the schools. For each activity there is: aims of the activity, tasks, role of the teacher, etc.
Pilot experiences: this folder contains the report "After pilots at schools" (PDF,English) and some of the things the students did during the pilots.
Platform: the Elgg based social platform used during the pilots of the project and two documents: administrator guide and user guide.
The Handbook in all languages.
Report "Girls, ICT and entrepreneurship. Learning from existing initiatives" (EN)
This report bases both on literature review an analytical review of examples of best practice. The best practice initiatives are both part of the core analysis and listed in an annex. The conclusion gives an insight about lessons learned for the project development of ICT-Go-Girls!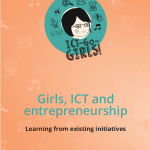 pdf (English)
A4, English, PDF
A3 -Folded A4 – format, English, PDF